Ten or fifteen years ago, we used to call this the 40-40-40 Club. Work 40 hours a week for 40 years and retire on a dismal 40% of your income. Today, people are working longer hours for more years.
I remember a conversation that my wife, Christy, and I had with our financial planner several years ago. I told him that my goal was to retire at the age of 55. He told me it was impossible. In fact, his spreadsheet model wouldn't even allow him to plug in a retirement age of 55. In all his years as a financial planner, he had only personally known two people who had accomplished this feat. That is because he surrounded himself with people who were part of the 50-50-50 club. It was inconceivable to him that there might be a different way to achieve financial independence.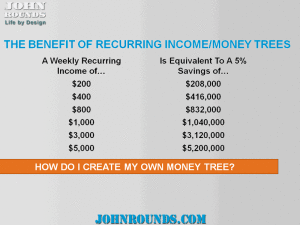 If you look at this chart, you can see why our financial advisor was having a hard time wrapping his head around the concept of early retirement. At the time, our goal was to retire with an annual income of $150,000 a year. In order to achieve that kind of income without touching our principle investment, we would need to have $3,120,000 in the bank earning an annual yield of 5%.  Since neither Christy nor I had a cushy trust fund, it could only be assumed that money would have to come from savings. And with our income, there was no way we were going to be putting away $3,120,000 in this lifetime.
Then I took the time to listen to mentors who presented a different side of the story. By creating little "money trees" that yielded residual income – every week, every month, every year – I could crack this nut by generating cash flow of $12,500 a month. Hmmm….
That kind of cash flow requires a lot of leg work up front. It also requires some investment of additional time and money. But now my goal of financial freedom at 50 is totally within grasp. In fact, I've raised the bar a bit on the monthly income requirement to leave some room for travel and little "extras" like ski club and college.
The question you should be asking yourself right now is "How do I create my own money trees?" Just click the "Work with John" link and we can discuss some options.