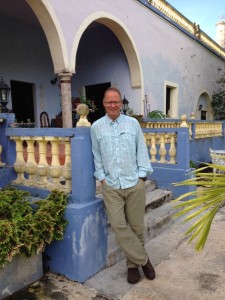 As I write this, we are sitting on the front porch of a beautiful hacienda just outside the city limits of Merida, Mexico. At midnight last night, the smoke of fires burning in the streets and sharp burst of firecrackers filled the air as people celebrated the arrival of a new year. Every man, woman and child over the age of 6 months was on their front doorstep or in the streets participating in the festivities.
I would like to re-post an article I posted at the time last year.
Whether in the USA, Europe, Asia or Latin America, this is typically the time when a vast number of people annually resolve to improve their lives in the upcoming year. According to a 12/13/13 article published in the Journal of Clinical Psychology, 45% of Americans make New Year's resolutions. The good news is that New Year's resolutions encourage a person to pursue their dream of a better future. People who explicitly make resolutions are 10 times more likely to attain their goals than people who don't explicitly make resolutions. The bad news is that only 8% of the people who make resolutions manage to achieve them.
So why is making a change in one's life so difficult? If you're like me you are also asking yourself what the 8% know that the others don't. Research shows the reasons for not accomplishing goals boils down to two major things:
1) Most people do not have a firm understanding how to establish a successful goal setting process.
2) Most people lack the support of family and friends in reaching those goals.
Several years ago, I had the honor and privilege of learning about goal setting from a friend of mine by the name of Carmen Marshall. Most of the information below comes directly from her teaching and mentorship and I am forever grateful to her for laying out a goal setting process that is simple, straight-forward, and most importantly, gets results! (You can learn more at the programs that Carmen offers at CarmenMarshall.com.)
One thing that Carmen taught me is that most people skip a critical step in the goal setting process. It's the first step in effective goal setting. And that is that we need to look back and celebrate successes in the previous year before establishing goals for the upcoming year.
Look back first. Then look forward.
It feels good to look back at what we've accomplished in the previous year. Most people are surprised at how much they have achieved. Whether it be a new skill we've acquired, a new relationship that was built or a new place we've visited, taking stock of our blessings from the previous year puts us in a place of gratitude. And gratitude is essential for embarking upon the goal-setting process for the upcoming year.
Reflecting on the previous year also reminds us how quickly time passes. Each year seems to go by quicker than the last. This brings a sense of immediacy to goal-setting. Life is too short to settle for mediocrity. Now is the time to stretch a little to make your life exceptional rather than average.
So what is the best way to start a productive goal setting session that will put you in the 8% rather than the 92%?
Since success isn't just about money, it's important to take a holistic look at your growth in the previous year. Here are some categories you can reflect upon when making a list of your achievements:
Purpose
Business/Work
Fitness
Health
Personal Development
Spirituality
Finances
Home/Location
Friends
Family
Charity/Giving Back
Travel
Fun stuff
Cultural
New Restaurants
New Books
Accomplishments & Achievements
Key learnings/takeaways
The first step in setting your goals for 2014 should include the following exercise:
1) Set aside time when you won't be interrupted. Grab a cup of coffee or a glass of wine. This is a time to celebrate the previous year's achievements. The experience should put a smile on your face.
2) Use the categories above to jot down the highlights from the past year. Write down 1-2 things in each category as they come into your mind. This isn't the time for editing. Just write down some way your life was enriched in the past year in each of these categories.
3) When you are finished, invite family and or a significant other to review the list with you and share in the celebration. This is especially important if you have children. Sharing your achievements and celebrating them with your children will make your children embrace your work rather than resent it.
4) Make a list of 3-5 things you would like to leave behind in 2013. This is not something you should dwell on. Just jot down 3-5 habits, bad relationships, etc. that are not serving you.
Once you have provided closure to 2013, you are ready to move forward with your goal setting for 2014.
Setting SMART goals
The SMART goal system is widely recognized as the most effective method for setting goals that are achievable. SMART goals dramatically increase the likelihood that your goals will be achieved.
SMART is an acronym for:
Specific / Measurable / Actionable / Relevant / Time-dated
A SMART goal is Specific.
What do you want to accomplish? Avoid general goals. Choose goals that are as specific as possible.
Example #1: I want to lose weight. (general) I want to lose 20 pounds by May 1. (specific)
Example #2: I want to make more money in 2014. (general) I want gross an additional $20,000 in 2014. (specific)
A SMART goal is Measurable.
A SMART goal is specific by virtue of the fact that it is measurable.
Example #1: I want to lose 20 pounds by May 1. When May 1 rolls around, you can just step on the scale to see if you achieved your goal. But if you wait until May 1 to step on the scale for the first time, how likely is it that you will achieve your goal? Not very likely. Setting up a routine for measuring your progress will dramatically increase your the likelihood of achieving that goal. Monitoring progress every week will keep you focused on how far you've come and how far you have to go.
Example #2: I want to gross an additional $20,000 in 2014. If you wait until November to check your progress, you've waited too long. I review my long-term goals on a monthly basis. My wife and I also sit down together quarterly to review and adjust based on progress to goals.
A SMART goal is Actionable
What actions will I need to take to make progress towards my goal?
Example #1: To lose 20 pounds by May 1, I will commit to cutting carbs from my diet 6 days a week and attending Cross-Fit 4 days a week.
Example #2: To add an additional $20,000 my income, I will create a new revenue stream through a new business or by buying and creating a new cash flow asset. I will evaluate 20 business opportunities and real estate investments to find an option that works best for my schedule and working capital.
A SMART goal is Relevant
What makes the goal worthwhile? What puts emotion behind it?
Example #1: I will lose 20 pounds by May 1 so I can feel comfortable in a swim suit this summer. My spouse and my children will be proud of me for working hard to look good. I love being a healthy example from my kids.
Example #2: I will add $20,000 to my annual income so my spouse and I can have a little breathing room at the end of each month.
A SMART goal is Time-dated
The S.M.A.R.T. goal criteria is intended to prevent goals from being overtaken by the day-to-day crises that invariably arise. A time-dated goal lays out the benchmarks we need to reach to reach the end goal.
Example # 1: To lose 20 pounds by May 1, I will need to lose 5 pounds by February 1, 10 pounds by March 1 and 15 pounds by April 1.
Example #2: To add an additional $20,000 in 2014, I will need to have a concrete vehicle in place by March 1, 2014.
Our Spirits Respond to Rituals
There is something grounding about attaching rituals to goal-setting. Our goals vibrate at a soul-level and become infinitely more powerful when we associate them with a ritual.
We have created a ritual that helps to ground us in both the release of unwanted experiences and energizes the activity and experiences we would like to embrace. Our new year's ritual is to write unwanted things on a paper plate and burn them in a little fire on New Year's eve. Then we read things that we are celebrating from 2013 and goals for 2014. When everyone in our family has read their goals, we light a floating lantern and send it skyward with all our hopes and dreams for the new year.
I love to help people set their goals and watch them achieve their dreams. I motivate people to become part of the 8% who really accomplish the things they set out to do. I work with a team of people who regularly not only achieve their goals, but exceed them. If you would like to learn more about what we do in practical, real-life terms to stay focused on the steps to a better life, send me an e-mail.