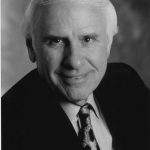 Jim Rohn was one of the best known motivational speakers in U.S. history. This is an excerpt from his biography on jimrohn.com:
"For more than 40 years, Jim Rohn honed his craft like a skilled artist-helping people the world over sculpt life strategies that have expanded their imagination of what is possible. Those who had the privilege of hearing him speak can attest to the elegance and common sense of his material. It is no coincidence, then, that he is widely regarded as one of the most influential thinkers of our time, and thought of by many as a national treasure. Jim authored countless books and audio and video programs, and helped motivate and shape an entire generation of personal-development trainers and hundreds of executives from America's top corporations."
I have had the privilege of listening to countless hours of Jim Rohn's CD's while driving in the car.  When I was a sales rep I called that time "Rolling University" which was a great way to convert some non productive hours into something productive. I have also read a number of his books and studied his perspective on growth, success, leadership, change, and the activity / learning / dedication required to get where I want to go.
One of the questions Jim Rohn often posed to his audiences was this: "What will the next 10 years look like?" After pausing for effect, Jim would answer his own question. "History says, it will be filled with opportunity mixed with adversity."
I like Jim's perspective on this. You don't need to be a rocket scientist to realize that real estate prices will climb, then drop, then climb again. The stock market will follow much of the same pattern. Wars will be waged, followed by times of peace. Companies will rise and fall. Trends will become the rage, then disappear. From the 30,000 foot view, life is somewhat predictable. Although the circumstances around us change all the time overall it is very cyclical and predictable.
Many people make the mistake of assuming that global circumstances are responsible for the immediate conditions in their lives. They couldn't be more wrong in my experience. There are people who succeed or fail everyday, despite the status of economic conditions, whether the President is a Republican or Democrat, or whether the real estate market is up or down. Christy and I had our four best financial years in the heart of the last recession. As a result that meant that we had the cash to take advantage of some great investments that others had to pass on. During that time, our mantra was "We are choosing not to participate in the recession!"
This is what Jim Rohn has to say about this subject:
"Here's a philosophy that helped change my life:  It's not what happens that determines your life's future. It's what you do about what happens.
All of us are in like a little sailboat, and it's not the blowing of the wind that determines your destination. It's the set of the sail. So jot this phrase down. It's one of the best to understand. .
The same wind blows on us all. The wind of disaster, the wind of opportunity, the wind of change, the wind when it's upside down, the wind when it's favorable and unfavorable.
The same wind blows on us all. The economic wind, the social wind, the political wind. The same wind blows on everybody. The difference in where you arrive in one year, three years, five years, the difference in arrival is not the blowing of the wind but the set of the sail."
I find that to be so powerful and so true!
From looking at our Facebook posts, it would be easy for people to assume that we had a spectacular year. There are lots of pictures of our beautiful home in the mountains of Colorado… pictures of us rafting, skiing, hiking, fishing… pictures of three great kids enjoying their many athletic and musical activities.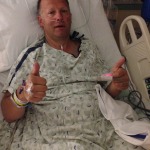 The truth is… we did have a fabulous year. But it wasn't an easy year. In fact, 2014 was straight up, one of the most challenging years both financially and from a health standpoint that I've had in my entire life. I had several failed business projects/efforts. I invested massive amounts of time and effort on several business projects only to find that they lead nowhere. Additionally, after experimenting for 10 years with every holistic healing option known to man, constant hip pain required me to have both of my hips replaced.
Amid the turmoil, it's not too hard to see the silver lining. Despite the fact that I didn't have steady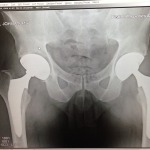 income in 2014, we had a very profitable real estate transaction that paid the bills. Despite the fact that I needed to have both hips replaced, I was in the hands of a fantastic surgeon, and had two successful surgeries with no major complications. But silver linings aside, 2014 was filled with more challenge than opportunity.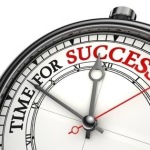 As fun as it is to write about and read other stories of great successes, I wanted share the fact that 2014 has been one of the most challenging years of my life. It would be foolish to assume that I can sail through this life without the occasional stormy weather. But I'm making sure that my sail is adjusted to move in the direction I want to go, even when times are tough… especially when times are tough!  Instead, we recognize challenging times for what they are: the flip side of opportunity.
I am happy to put 2014 in the record books and look to a super successful, happy and prosperous 2015. I believe I am on the cusp of my next great project and can hardly wait to see it all unfold.