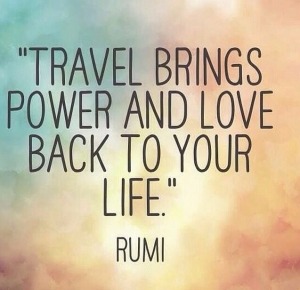 There are 196 countries in the world (if you count Taiwan). Lots of people talk about the importance of travel but very few actually visit more than a handful of countries.
My wife, Christy, and I both grew up with parents who valued travel. When we got married, we made the commitment to travel on a regular basis. In the beginning, it came down to the financial choice of getting furniture or taking an international trip. Our friends complained about the fact that camp chairs were a poor substitute for a couch. But we used our savings to take several trips to Latin America during that time instead of buying living room furniture.
The last trip we took before the birth of our first child, Gracie, was to summit 22,837ft. Aconcogua. Who cares about a couch when you have the chance to climb the highest mountain in the western hemisphere?
When I think about the driving forces behind the importance of travel in my life, I realize there are so many, it's hard to point to just one or two as being "most" important. Change of thinking, gaining a more global perspective and experience, obliterating prejudice, the personal challenge, language study, and experiencing different foods, are just a few impetuses that make travel important to me.
We can always find reasons not to travel. When Gracie was born, we were very anxious about traveling with a young baby. But we were both working in sales as manufacturer's reps in the outdoor / ski industry. As we worked through many of the challenges of traveling with a young child, we met a lot of people who wanted to tips and tricks for traveling with youngsters. Christy started a book called Baby Travel Made Easy, which she converted into blog posts on a website BabyTravel.com. We also created an iPhone app with a packing list.
We have yet to figure out how that can be monetize BabyTravel, but it was a fun project.
As I write this, our family of five is in Merida, Mexico for one month of Spanish language and cultural immersion. Our kids are attending Spanish language school every morning and we will explore Mayan history and culture in afternoons. Christy and I will be in search of our next business idea and hope the change of environment, culture, food and people will stimulate new thoughts and enthusiasm for our next project.
Thirty-six countries visited. Only 160+ to go! I'd love to hear about your adventures too!